Protecting Your PC/Computer When Shopping Online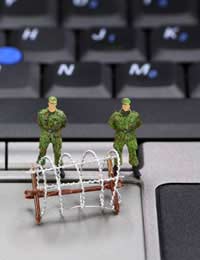 Are you interested in shopping online, but have avoided doing so because you're concerned about the threat of identity theft? The dangers are very real, as Internet thieves and hackers have woken up to the increasing number of transactions made via computer. However, you shouldn't allow the fear of identity theft to keep you from the convenience of online shopping. By taking some basic precautions and remaining alert, you should have no trouble protecting your computer and your personal information.
Preparation Before You Shop
There are many reputable online sellers, but not every deal that you find is legitimate. You can keep yourself safer by doing a little homework ahead of time. Things that you need to look for include real world contact information like a physical address and a phone number. It's always a good idea to have multiple ways of contacting the store in case something goes awry. Go ahead and check the phone number to make sure it rings through to an active line. Even so, you may still have a gut instinct that not everything is on the up and up. Don't ignore your feelings for the sake of an attractive deal. If it doesn't feel right, just move on to the next site.
There are a couple of ways you can tell instantly if you are shopping on a secure site. First, look in the address bar of your browser. Instead of "http", you should see the letters "https". Also look for indications of SSL (secure socket layer) technology. These precautions will help to ensure that the financial information you're entering can be seen only by you and the seller. Other prying eyes trying to view the exchange of data will see only encrypted information. If you can't confirm that your browser is secure or that you are shopping on a secured website, you should not enter any of your personal or financial information.
Most online commerce experts have a single bit of advice when it comes to Internet shopping using a public computer: don't do it. Using a computer a home or at work is really the only way to be sure that your information is secure. Avoid saving your credit card information on the seller's site. While it may add extra convenience, it also exposes you to greater risk. Even if the seller has the best of intentions, you never know when they might suffer a serious security breach.
Wireless Networks
You may feel safe by doing all of your Internet shopping at home on your own computer. But if you have opted for the flexibility and convenience of wireless computing at home, you should take some security precautions to protect your privacy and identity. Your home WiFi router should be secured, meaning a password will be required to use the connection. With the proliferation of wireless-enabled laptops, you can't afford to leave your home network open to any strangers within range. For maximum security, connect using a network cable for sensitive activities like online shopping or banking.
Even a network cable can't filter out the harmful effects of viruses or spyware, or the irritation of unsolicited email (spam). Make sure your computer's virus protection software is up-to-date. When browsing online, don't click on offers that seem too good to be true. And never click on a link or file contained in an email from someone you don't know.
The future almost certainly will bring an increase in conducting our personal affairs online, and the day is coming when wireless connections will be available anywhere. It will be your responsibility to make conscious choices in favour of safer and more secure transactions. With a few basic precautions like securing your home network, checking for a secured connections to websites, and not trusting your personal data to others, you should be able to keep your identity safe and your online shopping fun.
You might also like...