Using Your Credit Card to Shop Online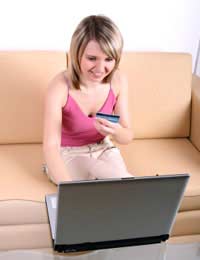 The Internet has welcomed in a new era of consumerism - the online shopper. It's not surprising that given the ease of shopping online, the flexibility of the 24 hour store that can be accessed from almost anywhere on the globe, and the sheer choice of goods and services on offer, Internet shopping is becoming the preferred method of retail therapy.
Consumers have steadily become more confident with the safety aspects of shopping online, reflected in the annual growth of online sales each year. Despite reported cases of identity theft, fraud and online scams, consumers continue to invest in e-commerce. Although these threats are real, they are thankfully limited. But knowing how to use a credit card to shop online safely will empower consumers, helping them to reduce the risk of becoming a victim of online criminal activities.
The Benefits
Of course there are many ways to pay for goods or services online. Paying by cash is generally not accepted, as sending the cash through the post is deemed too risky, and logistically too troublesome for online suppliers to handle. The same could be said for cheques, although smaller companies may accept this increasingly outmoded form of payment.
From a safety aspect, a credit card is the best way to make an online purchase. This is primarily because for purchases over £100 and under £30,000, the credit card companies will automatically insure the goods. This applies to purchases made both online and in a bricks and mortar shop. However, the protection covers purchases made in other countries, something that can easily be done without realising online. Credit card companies are also liable alongside the retailer if the consumer receives goods that are deemed to be faulty, not 'as described' (as outlined in the Sale of Goods Act 1979), or if the goods never arrive as a result of a company going out of business. It may also be easier to recoup your funds if your card has been used for fraudulent purposes. Your rights stipulate that you are entitled to cancel any orders made by fraudulent means.
Keeping Your Credit Card Details Safe
Naturally, when shopping online you will want to keep your credit card details as safe as possible. To do this, one of the first things you should check is whether anyone can physically see the screen that you're typing your details into, or the card itself. It is highly advisable to only make purchases from a private home computer - this way you know specifically who has access to the computer.
You should also consider the level of protection your computer has. It is almost imperative that the computer should have anti-virus software and a firewall installed, with wireless networks encrypted to protect from the likes of 'packet sniffers' (hackers that can access all information transmitted by computers) and 'key loggers' - viruses that install themselves through spam emails or Trojan viruses to collect information about what was typed into the keyboard, such as usernames and passwords. Your browser should also support at least SSL (secure sockets layer) 3.0 - easy enough to check by typing this term alongside your browser version into the search engines.
If you are satisfied that you have adequate protection on your computer, it is then best to check the website you're using. What sort of payment methods does it use? The most trusted third party services such as WorldPay and PayPal transmit your details over secure connections. Be wary of payment methods that you've never heard of before - in these circumstances it really is worth going with services that are well known and trusted, such as the aforementioned and escrow.com. Your browser will indicate whether a payment is being made over a secure connection - in the right hand corner where the loading bar appears, a small yellow padlock symbol should appear during the transaction. The website URL should start with https:// instead of the usual http://.
One last tip is to make sure that you never give your credit card details out to anyone else. You may receive fraudulent emails claiming to be your bank, or a service that regularly uses your credit card details, such as eBay or PayPal. Be aware these companies will NEVER ask you to confirm, change or enter your details or password via an email. If the email provides you with a link, this could still lead to a fake website where your details could be collected and used for fraudulent purposes. The only way to check is to visit the real website by manually opening a browser window and typing in the URL yourself.
Overall, online shopping continues to be a trouble-free and pleasant experience for thousands of consumers each day. By taking just a few steps, you can help to ensure that you are one of many happy customers.
You might also like...