Spyware and Internet Shopping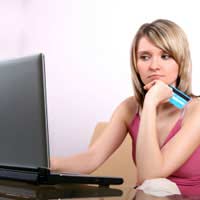 Understanding our shopping habits is seen as a crucial practice that allows e-marketing strategies and direct marketing communications to be focused more intently on a demographic in a bid to boost sales. This is why the Internet could be regarded as the prime targeting ground for advertisers, online traders and unfortunately, criminals.
But did you know that your online activity such as your preferences and viewed items can all be tracked, with the information sent back to the website owner? This is the reality of online marketing, and is in most cases a legal practice. The little piece of programming that tracks your online activity is known as Spyware, and sometimes it can prove to be very invasive and aggravating for online browsers.
Defining Spyware
The 'spy' part of the term Spyware refers to the stealthy and somewhat underhand way in which the programme is installed onto your computer. This is because the programme is installed without the user's consent.
We've already suggested one common use of Spyware as an online tracking tool that allows website owners (usually online traders or service providers) to monitor your browsing and shopping habits for purposes such as advertising. This is also known as adware, and it often reveals itself in the shape of pop-up advertising whilst you're browsing a website or webpage. However, you should be mindful of the fact that this is only one of many guises of Spyware.
Rather than being a programme that simply monitors activity, Spyware programmes can also actively impede and interfere with your browsing activities.
Problems with Spyware
Spyware can prove to be extremely problematic to the average Internet surfer. Some Spyware programmes can redirect the user to an alternative webpage, where harmful viruses (Trojans) will automatically be downloaded. These viruses can corrupt the user's computer by deleting programmes, interfering with Internet connections or installing unwanted software. Some Spyware is also programmed to capture key strokes (what you type into your web browser), which can obviously allow others to access important security information and personal details for criminal purposes such as fraud.
Other problems can also persist if Spyware downloads itself onto your computer. If you have unwittingly accumulated many Spyware programmes that run simultaneously, their constant transmitting can use up bandwidth or processor usage, both of which will slow down your computer.
You may also experience problems with using your web browser – screens freezing, slow loading or errors may be a frequent occurrence.
Fixing the Problem
There are a number of ways that Spyware can infect your computer, but as with fixing many problems, the first step is to take preventative measures. One way to thwart these surreptitious programmes from installing themselves on your computer is to make sure that you have installed a security programme that performs a daily anti-spyware scan. This will effectively clean your computer of any installations that you have not explicitly consented to, and help to keep your system running properly.
You should also avoid clicking on website advertising banners, especially those that offer free games or services such as screensavers. Also bear in mind that file-sharing programmes will often have Spyware programmes 'piggy-backed' onto them, which are covertly installed as part of the software. You should be particularly careful if any such services offer free gifts such as films or music which you would otherwise expect to pay for – this can be a ruse to get you to download the Spyware.
Another that Spyware will install itself is for users to create seemingly real user action initiated by their browser (usually Internet Explorer). The browser will bring up a window that appears to be a normal Windows dialog box asking you whether you would like to optimise your Internet access or improve some aspect of your Internet security. The dialog box will include a Yes and No button, but in reality both will be linked so that whichever button you click, an automatic Spyware download will ensue. Obviously in this instance you should simply close the box.
In addition to installing bona fide anti-spyware software, one way to remedy these problematic dialog boxes and banners from popping up is to change your browser options. Mozilla Firefox in particular has a number of measures in place to allow users to configure their browsers to block pop-ups. You will always be alerted when a pop-up window has been blocked, and given an option to view the blocked window. This option can be found in the Tools menu, where under the Options selection you can access the Content tab where settings may be altered to suit your browser needs.
You might also like...