Protecting Your Details Before You Shop Online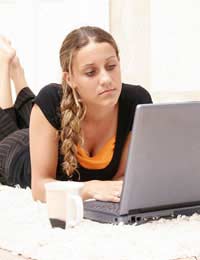 The Internet is one of the best sources for finding that elusive bargain or otherwise hard to find one off product. From the comfort of your own home, purchases can be made from an array of international merchants, and without stepping outside you can have almost anything you could possibly want delivered right to your front door.
It's pretty much just as safe as shopping on the high street, as consumers are actually afforded with more regulations designed to protect their rights when shopping online (distance selling). So it's no wonder that e-commerce's popularity is continually gathering pace with consumers.
However, the problem of identity theft and fraud over the Internet, although not by any means intrinsic to the online shopping experience, is definitely a significant threat that shouldn't be ignored. Consumers can help themselves fight this sort of criminal activity by taking a few precautions to protecting their personal and financial details before making that purchase.
Keeping it Personal
When considering buying online, you should first think about the best and most secure methods of payment. Some websites may only take credit or debit cards, as the use of cheques is becoming null and void in the world of e-consumerism. This is partly due to the speediness of a transaction involving a cheque, as well as security issues. From a seller's point of view, fraudulent activity is easier to implement when using a cheque rather than using a credit card.
Credit card companies often employ authorisation schemes to help sellers ascertain that the credit card details entered are bona fide and being used by the owner. From a consumer's perspective, credit cards will also offer extra protection against shady sellers - purchases over £100 are automatically insured and the credit card company, as well as the seller, then become liable for the goods.
You should also keep your credit card details to yourself. Try not to make purchases on public computers, as cookies and autofill on the fields entered (including personal addresses and credit card numbers and details) could be enabled. This makes obtaining these sorts of details much easier for the criminally-minded.
Passwords
If opening up an account with an Internet shop or website, you should be mindful that your details will often be stored. This is because online merchants like to make it easy for consumers to make repeat orders quickly. It is therefore crucial that you create a new password and username for each website that you create a membership with. A 'strong' password is vital - this means creating a password that cannot be guessed by a third party. Never use you or your partner or family member's date of birth, as these sorts of details can be accessed by a number of means. The more characters and numbers included in the password, the better. Also consider where you keep your passwords. Ideally, they should never be written down or carried on your person. If you must write the password down, keep it on a VERY secure server, if at all. The best option is to keep the password in your head - the challenge is to create one that is both memorable and unique.
Secure Payment Methods
One key point any consumer can partake in, is to only shop on websites that use secure payment methods. A secure payment system is usually a third party system, such as PayPal or WorldPay, or the company's own system. Indications of the safety of the payment system include the appearance of a little yellow padlock symbol in the browser's loading bar in the bottom right hand corner of the window, and the use of https:// at the beginning the URL during the transaction process. The extra 's' in the URL basically means that the information you send over the connection is being encrypted and can't be read or accessed by other parties.
Unsolicited Emails and Phishing
You should always ALWAYS be aware of any email that you receive asking for your personal credit card or bank information. No reputable website will ever ask you to change your password or confirm person information via an email. It will always be done over a secure connection on the company's website.
Criminals will sometimes try to lure victims by asking them for their personal and financial information in this way. The email may look real, use the company logos and even use what appears to be a real email address. But the likelihood is that there are a bunch of unscrupulous souls waiting on the other end to access your details and use them for less than virtuous means.
If you think that you may have been sent a Phishing email, you can always contact the company directly to check. Never use the contact details in the email, always use the contact details as outlined on the official website. If you think you have fallen victim to this sort of identity theft too late, you can always contact your credit card issuer or bank immediately to inform them. They will be able to take action on your behalf to prevent any fraudulent activity.
You might also like...