Protecting Yourself From Email Scamming and Phishing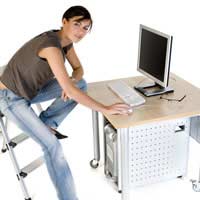 Internet thieves are targeting your personal information. Do you know how to keep your important details safe? As more and more people go in for online banking, live internet auctions and shopping with online retailers, cyberspace has become a more attractive arena for unscrupulous individuals. If they can obtain your credit card numbers, login details, and other critical pieces of information, thieves can clean out existing accounts, open new accounts, and purchase all sorts of goods and services in your name.
What is Phishing?
The process used to gain access to your information is known as "phishing." Sometimes referred to as email scamming, phishing involves the sending of fraudulent emails that look like they come from trusted websites. The messages often request that you confirm personal information, usually claiming that your account has already been compromised in some way, or has been subjected to unusual activity. If you don't have an account with the purported sender of the email, it's easy to ignore. But if it appears to come from a company with whom you regularly transact business, it can really catch your attention.
Phishing emails have become remarkably sophisticated, often including official logos and credible-sounding language. The messages normally contain links for you to click. A mouse click takes you to websites that look real but are actually clever forgeries designed to collect your information. If you take the bait and click through to the scammer's website, it's a simple matter for the thief to gather all of the information needed to live well at your expense.
Spotting the Offenders
Regardless of how slick and realistic these phishing emails appear to be, there are certain elements you can watch for to spot them quickly. First of all, businesses and banking institutions will never ask you to provide passwords, login data or other sensitive information via email. Requests to "confirm" your account or "verify" your account should immediately put you on your guard. Phishing emails also include some note of urgency, often requiring a response within hours to keep your account open. Their goal is to have you respond without thinking.
Most phishing emails will have a generic salutation like "Dear Valued Customer". That's because the scammer is sending out millions of messages, hoping to catch a few people unawares. The fraudulent message will often instruct you to click on a link to login to your account. You should never use an emailed link to login to any account. Instead, if you want to make sure things are in order, open your web browser and enter the appropriate web address manually. You will almost always find that your account is not compromised or locked in any way.
Companies most often exploited by phishing scams include Volksbank, Citibank and eBay. But the customers of almost any company or institution that deals with financial transactions are at risk. Beware of subject lines that include phrases like "your online account", "account issue--response required", and similar wording.
In fact, it's a good idea never to consider any products or services touted by unsolicited emails. Some of the biggest offenders in this arena include herbal products making wild claims, or distributors of popular pharmaceuticals like Viagra and Cialis. You really have no basis for trusting the providers of these products. Regardless of the fantastic claims they make or the deep discounts they offer, you have no knowledge of their sources, their quality control, or even the authenticity of the products sold. If you simply decide never to open an unsolicited email, you will likely never miss any life-changing deals and will probably avoid quite a few unpleasant experiences.
Combating Spam
If you've seen an increase in spam emails to your inbox, you have several options for blocking or filtering these unwanted messages. Some Internet service providers (ISPs) are able to block unwanted emails before they are ever delivered to your computer. Popular email clients (like Outlook) usually have a feature for identifying and trashing spam messages. In some cases, if a particular email address has been seriously compromised, you may want to get an entirely new one.
The Internet offers a great many time-saving and price-reducing advantages. Unfortunately, the online world is filled with petty thieves and dangerous predators as well. A healthy dose of skepticism and a reasonable level of precaution should do well to keep your online experiences enjoyable and your private information private.
You might also like...