Tips for Avoiding Online Credit Card Fraud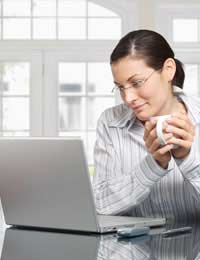 Consumer's actions are being tracked now more than ever. Through 'techniques' such as website cookies and loyalty card schemes, information about consumer and their purchases are continuously being collected and stored by the likes of supermarkets and credit card companies. But it's not only businesses such as these that are tracking our individual consumer behaviour - dogged dodgy dealing criminals are also trying to get in on the action. Only rather than using our details for marketing purposes, they have something more sinister and, well, illegal in mind.
That's not to suggest that using your credit card online will automatically mean that you're entering yourself into a victim of fraud lottery. Although credit card fraud is a problem, it's by no means endemic in online shopping. Compared to the sheer volume of online purchases made every day, the instances of credit card fraud are relatively low. However, many online shoppers may not be aware of their responsibility in protecting their personal details from the fraudsters, but they can make a huge difference by consciously taking steps to dramatically reduce their chances of becoming casualties of online credit card fraud.
The Tips
1. Keeping the Card Safe
Consider where you keep your card, and who has access to your card. Do you always need to carry it around with you? When making a purchase, can anyone physically see your card number and details? By thinking about the surroundings in which you keep and use your card, you can first of all reduce the access that other people might have to it.
2. Protect Your Computer
Keeping your computer up to date with the latest anti-virus software and a firewall will help to keep those pesky hackers at bay. Many programmes will offer daily scans to make sure that unwanted cookies (information collection programmes) can be removed from your hard drive. The scans will also make sure that no nasty Trojans or viruses that log and read data typed in and stored on your computer have been installed. Your security software might also occasionally offer 'patches' - these are updates to recently discovered threats to your system, and should always be updated to make sure your computer is as safe as it can be. If you have a wireless network, you should always make sure that it is encrypted, so that no one can maliciously access the network. Try to use a browser that supports at least SSL (secure sockets layer) 3.0.
3. Strong Passwords
Many websites will store your card information and personal details, to make future purchases quicker and easier. Whilst this is handy, it also makes it easier for unscrupulous types to quickly access those very details. You should try to keep each username and password used for such websites unique. Having a 'strong' password is also imperative - this basically means that the password is not something that can be easily obtained or guessed, such as a birth date. Try to include both numbers and letters in the password too, and if possible, try to keep the passwords stored in your head rather than on paper or in a computer document.
4. Do a Credit Check
It's always worth paying a specialised company to perform a credit check. Not only will this allow you to see how your credit rating currently stands, but also lets you know just how many cards you are registered as having, and whether the details that are held on record are accurate.
5. Check the Website is Secure
When making an online purchase, it is vital that you check that the store you're buying from is safe and secure. It is best to use well-known payment method/gateway or third parties such as escrow.com, WorldPay or Paypal. If you've never heard of a particular method of payment before, be wary, as it could be a fake. There are also a couple of other safety indicators, the first being the website URL (address). If the URL begins with https://, then this means that the page is secure (the 's' standing for secure). A small yellow padlock symbol will also appear in the right hand corner of the browser window, there the loading bar also appears. This means that the information is being encrypted.
6. Never Give Out Your Details
This one is simple - if you ever receive an email asking for you to confirm or change your details, the chances are that it is unsolicited and an attempt to fraudulently capture your details. These emails often appear to be from the real source (usually a bank or business such as PayPal or eBay). If you want to investigate further you should open up a new window, type in the website address and log into your account to check the status and accountability of the claims.
Remember that you have the right to cancel any fraudulent credit card transaction.
You might also like...