Internet Shopping Payment Methods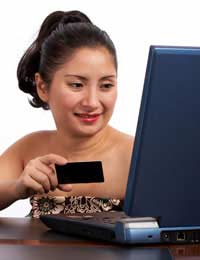 Internet shopping can save you time and money. Comparison shopping is a breeze and finding the lowest price is child's play. But what happens when it comes time to pay for your purchases? Most online sellers offer a variety of ways to pay. Is one method better than the other? Which way is easiest? Which method is most secure? And what are your rights when you pay for items on the Internet?
Outmoded Methods
Surprisingly, many people still believe that cheques and money orders are the safest way to pay for your online purchases. This stems from a fear of having their credit card numbers stolen or misused. In reality, credit cards rank as one of the safest ways to pay. Most credit card issuers limit your liability to £50 if your account is used fraudulently. Plus, major credit card companies in the UK also provide coverage for purchased items that cost more than £100 (and less than £30,000). If you have a problem with an online credit card purchase, or think you've been a victim of fraud, your first contact should be the credit card issuer.
The use of debit cards to pay for goods and services is becoming more commonplace. If you're contemplating using your debit card for an online purchase, you might want to confirm with your bank what your rights are in the case of fraud. A debit card essentially authorizes the retailer to withdraw funds electronically from your account. Transfers occur almost immediately, which means that the money may be gone from your account well before you receive the goods. Unauthorized use of your debit card has a much faster impact on your balances, and may end up being more difficult to reverse.
Third Party Payment Methods
Internet commerce has given rise to a variety of other payment processors like Paypal. Paypal provides an extra layer of insulation between you and the seller. You provide your payment details to Paypal, which then makes payment to the merchant without revealing your financial details. Paypal recently announced that there were more than 15 million account holders in the UK, which represents a third of the adult population and half of all UK Internet shoppers.
The most important thing to remember when preparing to provide your credit card details online is to confirm that you are connected to an encrypted web page. Your browser should display a small padlock symbol on the screen verifying that your information is being transmitted securely.
Pay careful attention while shopping online to avoid accumulating any hidden charges. Sellers in the UK are required to provide complete information about your purchase, so as long as you know what to look for, there shouldn't be any surprises. As you proceed through your transaction, e-commerce experts recommend that you print out each screen that has pertinent details about your purchase. If there is a problem with your purchase in the future and you need to complain, these printouts will provide important details to help with the process. Printed pages will also give you with a good reminder of the seller's commitments like estimated delivery date and their return policy.
Help Yourself
It's unfortunate that many UK Internet shoppers rely on their bank or their internet service provider (ISP) to protect their financial interests. Although there are some basic protections in place (assuming you stick to sellers in the UK or EU), online shopping still requires a good deal of self-responsibility when it comes to financial security. To stay safe, restrict your online shopping to trusted UK/EU retailers, confirm the existence of a secure connection, pay with your credit card, and keep good records of your transactions.
You might also like...
Ramsadav - Your Question:
Bought two sets of towels off the living social site. Towels were being marketed by a company called Groundlevel. The towels were advertised as "soft, fluffy and 100% Egyptian cotton". The towels I received are anything but what was advertised.you can almost see through the towels!!I contacted the company to complain. They have told me to send back the unopened ones but won't take back the ones I have opened. The company are still marketing these towels and using the same advertisement to sell them.Any ideas what can be done?RegardsDavid Ramsa
---
Our Response:
If it's a UK company, try the
Advertising Standards Authority
. Unless there was a specific clause saying items must be returned unopened you have a right to return them within 14 days. If they are faulty you can return them opened or unopened within 30 days. The problem here is the wording: soft and fluffy can mean different things to different people, was a thread count included? That would be a much more accurate way of disputing the description.
OnlineShoppingRights
- 8-Nov-16 @ 2:08 PM
Bought two sets of towels off the living social site. Towels were being marketed by a company called Groundlevel.The towels were advertised as "soft, fluffy and 100% Egyptian cotton" . The towels I received are anything but what was advertised...you can almost see through the towels!! I contacted the company to complain. They have told me to send back the unopened ones but won't take back the ones I have opened. The company are still marketing these towels and using the same advertisement to sell them. Any ideas what can be done? Regards David Ramsa
Ramsadav
- 7-Nov-16 @ 11:37 AM