Pro's and Con's of Customer Reviews on Websites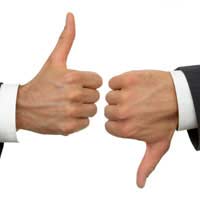 Customer review websites are often seen as a great way to research products and services before buying. Reviews are written in an informative way that not only outlines the good points but also highlights any poor elements of a product or a service, providing a useful resource for checking a product or service performs or serves the purpose it was designed for.
For people that regularly carry out research for online shopping, reviews offer superb ways to discover more about a product and make a decision about buying it. Review websites, such as price comparison and 'shopping intelligence' websites, provide you with a guide on that product or service. However, websites that are affiliated with a product or company can perhaps be seen to be swaying the decisions of their readers for the company's, rather than the customer's, benefit.
Payment for Contributions
Companies often carry out sponsored review programs where they offer payment or reward for reviews written about their product. This can serve two purposes:
To promote a product among a field of interested groups, and build interest and/or trust in a product or service
To offer informative and non-biased details and information from someone who has already tried and tested the product
It is at this point that the pros and cons of customer review websites become apparent. These type of review websites are not only providing wonderful exposure for companies and enhancing their products through recommendations, but could also be seen as swaying a reviewer to write more in favour of a product because they are being rewarded or paid to write.
However, review websites can provide a potential customer with a wealth of knowledge about how a product might suit their needs. This can help to build trust in a product, as well as provide detailed information, should they wish to make a purchase.
Customer vs Company
Whilst review websites can create a more favourable opinion of a product in the eyes of the customer, they can also act as a marketing tool for a company's benefit. This is because they may truly enhance customers' trust in a product and could help to create a positive following.
It could be argued that the customer focus is somewhat removed if a company conducts review programs, or pays people that are affiliated with the company, by creating an un-true impression of that product or service. A price comparison site may encourage people to write about a product that they are promoting, and customer focus makes up an important part of the promotion through price comparison and 'shopping intelligence' websites.
The relationship between customer and company is enhanced and strengthened through use of these websites, but one simple issue still remains - that any reviewer could be persuaded to write product reviews in a more positive way than perhaps they would if they were not being paid or rewarded. This fundamental trust issue should always be kept in mind when reading customer reviews. Consider that if it seems too good to be true, then it probably is.
Online Shopping Made Easier?
Whilst shopping online should make lives easier, review websites make it a lengthier process. This is because you can find yourself having to read and consider more than one review to gain a balanced perspective. However, this should be considered as the 'research' part of the purchasing process, and quite possibly the most important aspect.
Written opinions and reviews can help a buyer make a decision on a purchase. The main point is trying to differentiate advertisements, sponsored reviews and 'real' customer feedback. The product websites can provide important information on the use of a product, but with customer review sites, the question of the ethics should always linger.
You might also like...