How Price Comparison Websites Operate Privacy Policies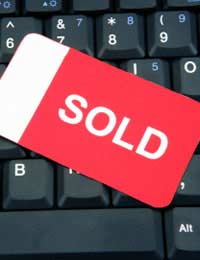 Online shopping is something most of us do regularly. What we don't always consider is our privacy. A simple registration to receive emails can actually lead to much more junk mail and phone calls that we didn't want in the first place. Of course, online shopping is great – it saves us time, makes us think and research a little more over our purchase by visiting price comparison websites to find a good price. But does it ring alarm bells when we are asked to 'sign-up' or register to an online shopping site before being able to drop things into our shopping basket?
The chances are that the answer to this question is 'no'. In the UK, the fact that we all think we are safe and secure when we do our online shopping should be of huge concern. Our personal details can be all too easily given up and handed over when confronted with the excitement of a new purchase, be it a spangly new dress or top of the range TV at a bargain price.
Data Protection in the UK
The simple fact is that you should take care when revealing personal details to anyone. This includes online shopping sites, price comparison websites, and cashback sites. Consider that almost every time you enter your details onto a website, you are providing someone somewhere with your personal information.
Personal details are always recorded. This means that in theory, the company holding the information - such as an online shopping site - can then contact you with deals, offers and send you promotional adverts after you've made your initial purchase. All personal details can easily be sold on to third parties. This means that other companies, especially online shopping sites such as insurance or price comparison websites, can then gain access to your personal information, such as email addresses and telephone numbers and pass these onto relevant businesses and advertisers.
Of course, the practice of sharing your personal information can be a little disturbing, if not downright annoying! However, there are ways and means to protect yourself. The first fundamental rule is to always ensure that you read and print out the privacy policy provided by the company. This should be made available each time you are prompted to enter your details, and should also be easily accessible on the website regardless of whether you intend to make a purchase or not. If there is no privacy policy available, then alarm bells should start ringing!
You must be vigilant and check every single little bit of print – read the text, check or uncheck the tick boxes and ensure that the information you are adding to the registration or sign up form is the information you want to distribute. So whilst it's tempting to register to an online shopping site quickly to complete your purchase, check the company's privacy policy (often found in a 'legal' link at the bottom of the page) while you still have the online shopping site on the screen.
Bear in mind that there is a high chance that unless you are signing up to company websites that you truly know and trust, your details will be passed on to other companies. Being careful about the boxes you tick and the information you give can mean much less junk through your door and a few less random sales calls.
Other Points to Consider
Always ensure that the 'selection' boxes are not already ticked for you – some websites will have checked a box so that you have to uncheck in order to opt out of certain agreements. These usually include passing on your details to third parties, or contacting you about future deals and offers. One popular tactic is to carefully word each selection - so where one option asks you to check the box if you DO want to receive certain information, the next option may require you to leave the box unchecked to do the opposite. Consider that some companies may rely on users not double checking the privacy boxes before clicking the send button.
Also bear in mind that when you click the send or submit button on a price comparison website, you can be directed to an external affiliated website. The likelihood is that this is a completely different website, where any privacy policy you previously adhered to is not relevant. Be VERY aware of this, your privacy may be assured on one site but just one click to another similar site and the agreement that you just filled in is null and void.
Therefore one sound piece of advice is to be careful with your information – try to limit the amount of registrations you make, and also the amount of times you provide your personal details. If you ever feel that your personal data has been passed on without your permission, you can try collating information about the advertising you're receiving as a result. If you need to contact the company in question, write or email and request a copy of any privacy policy that was provided.
Be it online shopping news, email updates or sales letters, any good company within the UK has to adhere to privacy and data protection laws and should tell you what they intend to do with your personal data. Remember that you are within your rights to request what details any company is holding. If you are ever in position where you need to do this, always keep a copy of the original letter in case of no communication, and alert trading standards if you suspect something is amiss.
You might also like...