Quick Seller's Guide to Providing Safe E-Commerce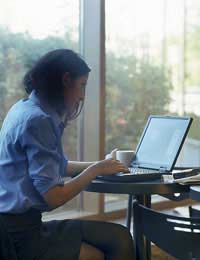 Nothing is better for business than moving into new markets, and no market has more potential than selling online. In 2007, more than 15 million households in the UK had Internet access, with the number growing by about 1 million households per year. That adds up to more than 32 million adult Internet users, with 86 percent of those listing searching for information about goods and services as their most popular activity.
Putting your business in front of these millions requires more than throwing up a website and taking orders. In order to protect the consumer and foster the growth of a civil online marketplace, businesses are required to comply with various government regulations. You should pay particular attention to the Sale of Goods Act, Distance Selling Regulations and the E-Commerce Directive.
Responsibility to the Consumer
Your primary responsibility to the consumer is to provide correct and complete information. You must give contact details, including a name and physical address, an email address and your VAT number. You should also provide company registration details, as well as membership details in any trade or professional association. Price information must be clearly presented without attempting to hide costs. Taxes and delivery charges should be easy to find so that buyers can calculate a total cost.
By law, buyers have the right to cancel their order and get a refund from the moment of purchase until seven working days after receipt of the goods. You are also required to complete delivery of the goods within 30 days.
Risk Assessment
Unfortunately, selling online can also involve some risks for your business. First, you could lose revenue and face credit card chargebacks if someone completes fraudulent purchases on your site. Avoiding fraud will take some diligence and attention on your part. Put systems in place to monitor transactions so that you can catch suspicious orders. Some of the warning signals include buying in unusually large quantities, buying the most expensive goods, and choosing the most expensive shipping options. Your payment provider should be highly motivated to provide support in this area. Ask about fraud screening programs and verification systems that they may offer.
Putting yourself online can also expose you to unauthorized access of your computer systems. Hackers could breach the security of your data storage and make off with private customer information, like credit card details. Online vandals could also deface your website or disrupt business with a denial of service attack. Events like these could significantly damage your reputation.
To avoid this situation, it's essential to have robust website security in place. This means keeping your e-commerce software updated. Prior versions often have security holes that can be exploited. Never leave default passwords in place. The ideal system would put your customers' private information on a computer not connected to your e-commerce server. As your online business grows, you should seriously consider employing professional firms to test your security.
Every business that wants to be taken seriously in the marketplace really has no choice about going online. Savvy consumers expect to be able to find information about your goods and services, regardless of where they intend to purchase. But don't get so excited about future profits that you go off on a crazy web-building spree. Building your shop on the web should be taken as seriously as other aspects of your business. Give it the same care you would your business plan, make sure you're complying with relevant regulations, and don't hesitate to call in professionals to make your site secure.
You might also like...