Scams That Affect Sellers Online
By: Lorna Elliott LLB (hons), Barrister - Updated: 8 Oct 2010
|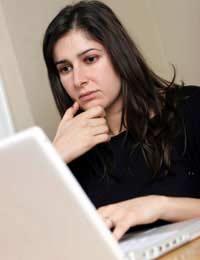 It isn't only buyers online who have to be wary of scams. Unwitting sellers can also fall prey to scammers. This article explores some of the most frequently reported frauds that sellers have reported online.
Cheque Frauds
Buyers sometimes send fake cheques, which are deposited into the seller's account by the seller and it can be several days until the seller realizes that they have sent out goods to someone who has scammed them. An obvious way around this is not to accept personal cheque as a payment method.
Other scams involve a buyer sending a seller a cheque which is greater than the amount of the agreed purchase price. The buyer then contacts the seller to tell them that they have made a mistake, and that the cheque is made out for more money than the cost of the item. They then ask for the excess to be sent back to them, either by Paypal, or by wire transfer. The seller finds out a few days later that the money that they thought they had received from the buyer didn't exist – as the cheque was either stopped, or was returned due to insufficient funds, or was fake.
Drop Shipping Frauds
In the last few years, 'drop-shipping' has become a popular method for selling goods online. What this means is that the seller who sells the goods is not actually the person in possession of them. Once they receive an order from a buyer, they place their own order with the distributor who dispatches the goods directly to the buyer, without the buyer having to hold stock. This can be a great way for people running home businesses to make money, but there are scammers out there targeting this group of people too.
The fraudsters contact sellers and tell them that they can forward the payments through their own Paypal account to the distributor, who will then send on the goods. Sellers should never allow anyone to use their bank accounts or Paypal / Worldpay accounts to accept money on behalf of another person. More often than not the fraudsters are laundering money, i.e. using innocent third parties to 'wash' the proceeds of crime and terrorism to make the source of the money look legitimate. People who get involved, even unwittingly, have been known to have their assets seized and face criminal investigation.
Your Online Auction Photographs
Another online fraud, that is particular to online auctions, is where the fraudster steals the photographs used by someone in their online auction and pretends that they too have the same item for sale. The fraudster then 'sells' the same item on their own auction, and gets paid for an item that they never owned. The best way to avoid this is to 'watermark' your photographs, so that they can't easily be reproduced without your permission.
Autographs and Artwork
There are plenty of people on auction sites selling artwork and autographs of famous people. Some unscrupulous people use photographs of genuine autographs and memorabilia in auctions, make copies of the autographs, or create fraudulent artwork, and then sell these on the same auction sites. This can have the effect of making the original seller's items look both expensive and less likely to be genuine. Sometimes this kind of fraud is difficult to stop, as some online auctions are reluctant to intervene. Sellers that have real provenance as to the item's authenticity are more likely to attract serious buyers in any event.
You might also like...