Consumer Contract Regulations, Buying Gifts: A Sample Case
By: Lorna Elliott LLB (hons), Barrister - Updated: 27 Nov 2016
|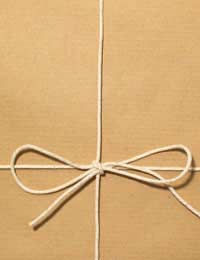 For his wife Hilary's birthday Sean buys several items from several online shops. They include a DVD, a personalised diary with his wife's initials embossed on the front, some underwear and some makeup. Unfortunately he isn't used to online shopping or using a computer. The personalised diary has the wrong initials on the front and the underwear is three sizes too big. The wife loves the makeup but it gives her an allergic reaction. The DVD turns out to be counterfeit and the man's credit card details are stolen from the site.
Bank Card Fraud
Sean tries to use his bank card but the transaction is declined. He is puzzled by this and goes to a cash machine to see whether any large bills have been paid that he has forgotten about. He telephones his bank, and they put a stop on the card and order a new card and pin number. Sean contacts the police to report the crime, and gives them details of the websites he used.
Reporting the Crime
He then emails the website from which he bought the counterfeit DVD, but receives no response. Further investigation reveals that the site provides no telephone number or postal address. Sean contacts FACT, the Federation Against Copyright Theft and reports the crime. As he has paid by debit card, rather than credit card, he cannot claim for a refund under the Consumer Credit Act.
Contacting the Vendors
Because Sean has used a number of different vendors he must contact each of them separately. At first he contacts the website company that sold him the diary. It is a reputable international website, with a good reputation for quality leather goods.
Unfortunately, the reply is not what he wants to hear. Goods that have been personalised in any way, or made to order, are exempt from the distance selling regulations which means that there is no automatic right to a refund or a replacement. When the store shows him his order form, it transpires that he was the one who made a mistake with his wife's initials. If it had been a store error, he would have been entitled to a replacement or a refund.
Hilary contacts the shop that sold her husband the makeup and tells them about the allergic reaction she had suffered. They are extremely apologetic, and offer her a full refund. Hilary also writes to the manufacturer, explaining the details of her reaction to the makeup. She is sent free vouchers by way of compensation. If the makeup had not been defective in this way, and Hilary had opened the makeup and used it (accepted it) she would not have been entitled to a replacement or a refund afterwards.
Sean then contacts the underwear shop and tells them that he wants to reorder the underwear in a different size. They agree to a replacement as long as Hilary has not worn the underwear and the labels are still intact. Sean is given a freepost address to which to return the underwear. A week later, the replacement underwear arrives and finally, Hilary has a birthday present she can enjoy.
You might also like...
mags - Your Question:
I recently bought a steam generator which was faulty returned to manufacturer and was given a replacement.This also turned out to have exact same fault!!!So got full refund.All good.So have just bought another steam generator.which had good reviews But have used for first time today and feel gutted as it is not very good.Only collected it from store yesterday.Do I have any right to return.Even to buy another from same place
---
Our Response:
If it's faulty you can return it to the store for a full refund within 30 days. It it's not faulty you cannot return it unless the stores returns policy allows it.
OnlineShoppingRights
- 28-Nov-16 @ 2:26 PM
I recently bought a steam generator which was faulty returned to manufacturer and was given a replacement.This also turned out to have exact same fault!!!So got full refund .All good.So have just bought another steam generator.which had good reviews But have used for first time today and feel gutted as it is not very good.Only collected it from store yesterday.Do i have any right to return.Even to buy another from same place
mags
- 27-Nov-16 @ 8:25 PM